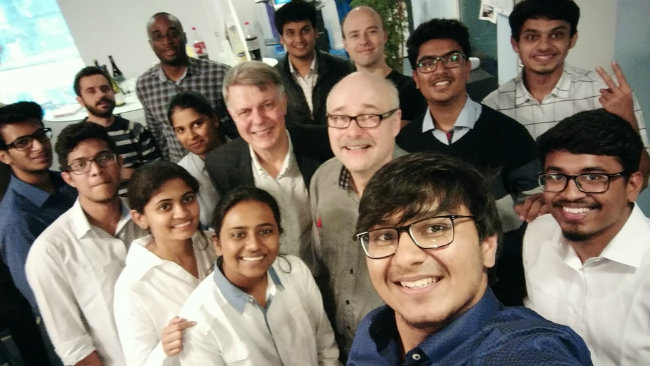 Students from Sinhgad Technical Education Society and CMI teachers
Eighteen students from Sinhgad Technical Education Society (STES) attended Internship Program hosted by Center for Communication, Media and Information technologies (CMI) Aalborg University in Copenhagen from 2nd till 23rd of Dec'16.

The theme of the internship was "Smart Living in Smart cities – IoT in India" The Program consisted of 24 sessions and broadly classified into 3 categories ie., Business aspects, Technical aspects and, User Interaction and Problem Based Learning i.e., Aalborg University way of learning.

During business sessions, students learnt about business models, market analysis, business case development and stakeholder analysis. In technical sessions, students learnt about network and application security, user privacy, cloud computing, telecommunications and design and implementation on wireless sensors.

The third part of the sessions were based on Problem based learning (PBL) and User interaction. During these sessions, students learnt about seven principles of PBL which consists of the framework, practices and support functions. Under user interaction sessions, students learnt about how users perceive technologies, application in their daily life.

The internship program was concluded with student project presentations. Eighteen students were divided into groups each consists of 4 – 5 students/group. One supervisor was allotted to each group for guidance and overviewing their progress. Following topics were addressed by the students:
Health Care Card in India
E-Health in India
Traffic Management System for Emergency Vehicles
Examination was based on the Mini Project submitted by the groups.
CMI was happy to be the host and provide the teaching and supervision. We look forward to the next opportunity!