Three students from DC Lead batch 2017-2019 participated in the Smart City Challenge Frederiksberg 2018 and the teams were the winners and runner-ups.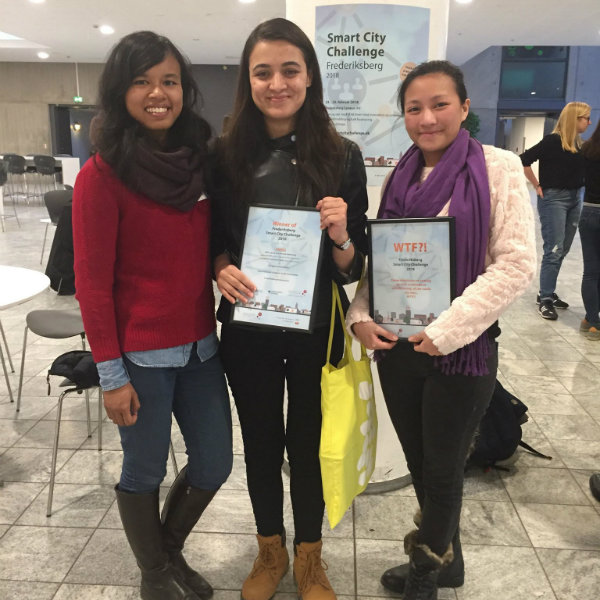 The University of Copenhagen, Science Innovation Hub and the Municipality of Frederiksberg organized a hackathon entitled "Smart City Challenge Frederiksberg 2018" over the weekend from February 23rd to 25th 2018. More than 50 participants joined and formed 11 groups to generate and develop smart ideas to solve problems faced by the government. Three students of Erasmus Mundus Joint Master Degree Program, currently studying at Aalborg University Copenhagen also participated in the challenge. The issues were related to four areas including sustainability, health, livability, and mobility.
The winning team with the students of AAU named Fakhira Bano and Patrick Runge pitched a smart IoT based solution named 'BagUp' to the problem of delivering green bags for garbage in an efficient, easy and quick way within the domain of sustainability. The idea was to place pickup boxes that has a solar panel on its lid and an IoT device inside it that is connected to the office of the Municipality. This IoT device will provide the remaining number of green bags in the box. The team also designed a 3D model of the pickup box and a prototype of Mobile and web application within the given 48 hours. The mobile app would allow citizens to map the nearest pickup box.
The runner-up team presented an idea named 'Food-Monster' that engages parents and their children with a smart solution of scanning a food item while playing a game and getting healthy food in different green spaces of the city. The runner-up team also consisted of two students from Aalborg University, Angshumita Deka and Mika Aldaba.
The winning team has been offered the office space in The Science Innovation Hub and the Municipality of Frederiksberg has expressed their interest in practically implementing the BagUp idea with the winning team.