Here at Aalborg University Copenhagen (AAU), we are organising a programming hackathon event where students from different universities will compete in small teams in solving interesting programming challenges.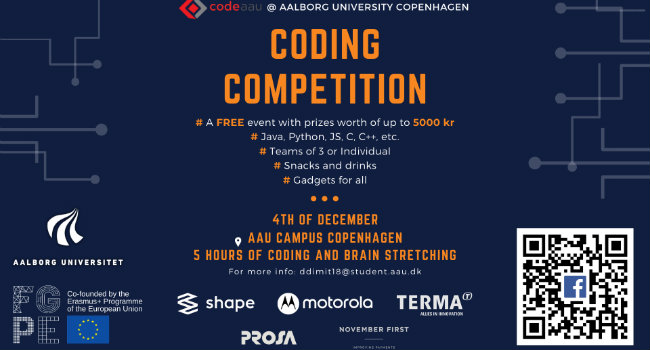 This is a traditional event in many universities and companies (see for example Google Code Jam), used quite often to identify the best talents. Our vision here at the AAU center for Communication, Media, and Information Technologies (AAU CMI) is to create this recurrent event with the purpose to offer students a nice platform to show their skills and get in contact with companies. This can lead to possible job interviews for them, while the companies could benefit by identifying the talented developers in the Copenhagen area.
The event is also within the framework of the FGPE Erasmus+ project, where we are partners: http://fgpe.usz.edu.pl/
The event will take place in December 4, 2019, at the AAU CPH campus located in the Sydhavn area.
We expect around 50-70 students to participate, who can choose to compete individually or in groups of up to 3 persons.
The detailed agenda of the event is still to be decided; however, the major timeline is expected to be the following:
09:00 – 09:30 Coffee, Breakfast, Student registration and setup.
09:30 – 10:00 Opening ceremony
10:00 Problems are assigned
10:00 – 15:00 Coding Competition Event; with coffee, snacks, and pizzas running
15:00 – Winners announcements, closing ceremony, free time for students to socialize with companies/other students, beer and snacks provided
The link for students to register is this one.