Shreyas is a PhD Fellow at the WCN Section of Dept. Electronic Systems at Aalborg University, Copenhagen. On a daily basis he is positioned at CMI. His main research area is Network Security, concentrated on Intrusion Detection Systems, Honeypots, and Adversarial Machine Learning. The Ph.D. topic is an empirical study of Honeypots in their application in Network Security of Small and Medium Enterprises. There is an exponential increase in the number of systems and services online today. With this growth, there is also a rise in the number of security incidents. It is important to detect the attacks and understand them to secure the infrastructure. Honeypots are decoy systems that mimic the behaviour of real systems. They are vulnerable systems, which attract exploits from attackers. Further, honeypots provide additional analysis interfaces after logging of attacks. Essentially, honeypots are trap and track systems, deployed alongside production systems in an enterprise network. Hence, honeypots are considered as proactive defence mechanisms in network security.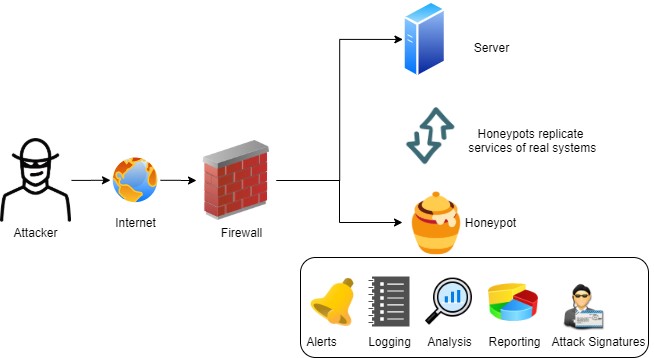 Figure1: Honeypots in a network
Honeypots are an important resource for detecting attacks with minimal risk and maintenance. They form a good learning interface for security training and an understanding of vulnerabilities. Therefore, honeypots are suggested resources on SME infrastructure, as they are both an attack training and detection resource. Honeypots are security resources whose only value lies in being probed or attacked. Therefore, it is also important that honeypots be not detected very easily. Shreyas' current research is oriented on finding methods to fingerprint honeypots in a network, and use these effective methods to develop new resilient honeypots. Additionally, he works on developing new honeypots that are capable of emulating IoT services. Some of his past works include HosTaGe, a dynamic mobile honeypot that runs on android devices. The PhD project focuses on proposing and demonstrating the use of honeypots as utilization for network security in SMEs. Further, it aims to propose benchmarks and design paradigms for the development of resilient honeypots.
Apart from the PhD project Shreyas' interests also include finding ways to evade access controls on systems, social engineering, behavioral leaning attacks, and wireless network security. He likes to solve programming challenges as a hobby and participate in online coding competitions like Hashcode, GSoC, Hackerrank, and Kickstart.