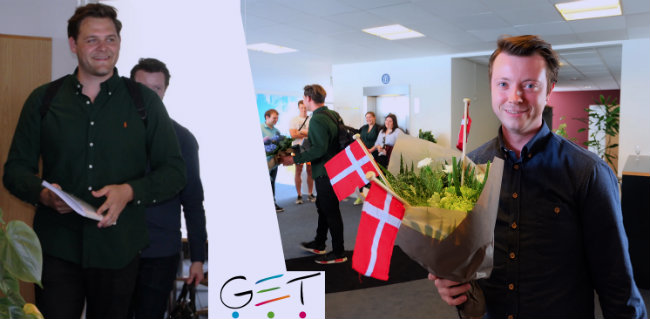 CMI prioritizes the education of entrepreneurs within the ICT field. One of the educational activities promoting entrepreneurship is that students on the last year of the ICTE master's program can make an entrepreneurship project. Entrepreneurship projects are long thesis projects of 55 ECTS carried out by 2 students. Entrepreneurship projects combine the development of an actual product and/or service with an academic analysis of technology and business developments.
An example of such an entrepreneurship project was finalized in June 2017 with two students Christian Ritter and Steffen Christensen having developed a platform by the name of GET, which aims at inspiring people to find the kind of food and restaurants they are looking for.
GET is a service which inspires consumers with food suggestions of nearby suppliers. GET presents visual images of food dishes to consumers together with a title, price, description and distance to the supplier, a so-called hint. Hints are generated by the users of the platform, the consumers and the suppliers. GET has succeeded in having an already established company from Copenhagen as a partner sharing the same interest and helping GET to evolve as a multi-sided service platform. Today, Christian and Steffen are continuing their work on realizing the GET platform on the basis of the studies and development activities performed during their entrepreneurship project.