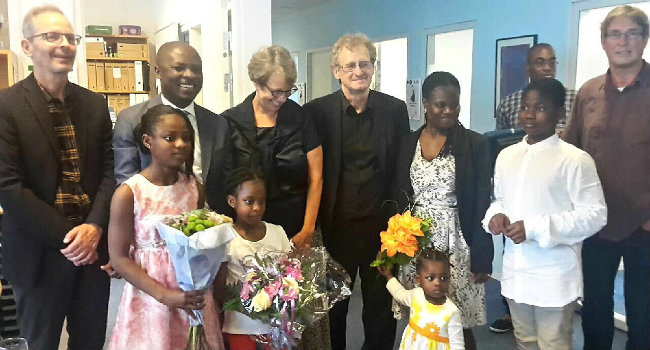 PhD Albert Gyamfi with assessment committee, family and supervisor.
CMI congratulates Albert Gyamfi with successful defence of his PhD thesis titled RESEARCH ON WEB 2.0 USAGE FOR KNOWLEDGE MANAGEMENT PROCESSES: The Case of Ghana Cocoa Board (COCOBOD)
Abstract
The study investigates the impact of the use of web 2.0 applications on knowledge transfer in the Cocoa Sector in Ghana. For organizations to survive the turbulence of the emerging business environment, they need to create and transfer new knowledge. When knowledge is transferred successfully, it creates organizational capability and also serves as a driving force for organizational knowledge creation. Most organizations have developed measures to improve their knowledge transfer capabilities. Transferring knowledge via social media websites has received widespread attention by organizations and corporate leaders and also within academic literature. However, in most developing countries like Ghana, knowledge transfer still remains a major challenge, especially in the Cocoa Sector.
According to the Media Richness Theory, the selection of media for a given task depends on the richness of the media and the characteristics of the task. The four modes of knowledge transfer theorized by Nonaka, require the use of media with varying degrees of richness. Firstly, the study proposed that the usage of web 2.0 applications for the different modes of knowledge transfer can be affected by their media richness. Secondary, the relationship between the use of web 2.0 applications for the knowledge conversion modes and knowledge transfer success can be moderated by the characteristics of the task to be accomplished by the transferred knowledge.
The study was conducted using a mixed method approach with a survey questionnaire. The data was collected from a population of 477, which comprised of 82 researchers, 120 cocoa farmers and 275 extension agents from CRIG, CHED and SPU. The results of the data analysis confirmed that the media richness of the selected web 2.0 applications affect their usage for the different modes of knowledge transfer with the moderation effect of task characteristics gaining partial support. The relationship between the use of web 2.0 for combination and knowledge transfer success was successfully moderated by task analyzability only for YouTube, externalization was found to be moderated by Skype and Wikipedia, internalization by Skype, and socialization by Facebook
Assessment Committee: Professor Susse Georg, AAU, (chairman); Professor Lars Fuglsang, Roskilde University; Managing Director Dr. David Souter, ICT Development Associates, UK
Supervisor: Professor Anders Henten, AAU.
Moderator: Associate Professor Iwona Windekilde, AAU.