Contact and Location
Postal adress:
CMI
Aalborg University Copenhagen
A.C. Meyers Vænge 15
DK - 2450 København SV
Denmark
Phone: (+45) 9940 3661
Email: cmi@cmi.aau.dk
Email (secretary): aby@cmi.aau.dk
CVR-nr.: 29102384 | P-nr.: 1016517581
Visiting Adress:
CMI offices are not located in the main building (A. C. Meyers Vænge 15 - "Building A"), but in the adjecent building "B"(Frederikskaj 12) at the 3rd floor. You can use the glass elevator to reach 3rd floor.

A pedestrians bridge connects building "A" with building "B" (to the right).
How to get to CMI
If you by public transportation: Find your train / bus connection with the Journey Planer.
If you arrive by car, by feet or by bike the "How the get there" page will help you.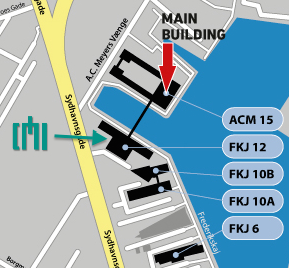 The entrance to the Frederikskaj 12 (FKJ12) building is shown with a green arrow at the map below. The building is also called "Building B"