CMI congratulates Camilla Bonde with successful defence of her PhD thesis titled The TETRA Implementation in Denmark and Creeping Lock-in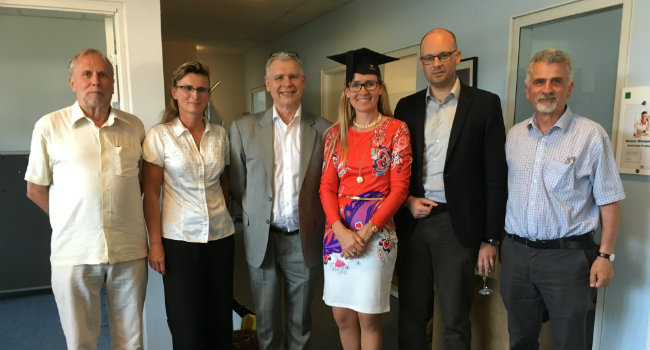 From left: Supervisor Knud Erik Skouby; Chairman Iwona Windekilde; Stewart Kowalski; Camilla Bonde; Christian Bergqvist and Co-supervisor Reza Tadayoni.
The thesis is a study of the Public Safety and Emergency (PSE) radio communication planning and implementation process in Denmark over the last two decades. It aims to contribute to the field of technology development and implementation by studying how main driving forces affect relevant and rational choices. In particular, the lock-in effects in ICT planning and implementation projects are studied during the planning and decision-making process, implementation and operational use of new radio communication technologies. The main research and legal context, technological context and market context affected the choices and implementation for PSE-systems by public authorities in general and Denmark in particular.
Three specific research questions were set up to guide content, process and methodology:
What PSE-system did the Danish state want?
What PSE-system did the Danish state get?
Which decisive driving forces within the legal, political, technological and market context influenced the planning and decision-making in Denmark?